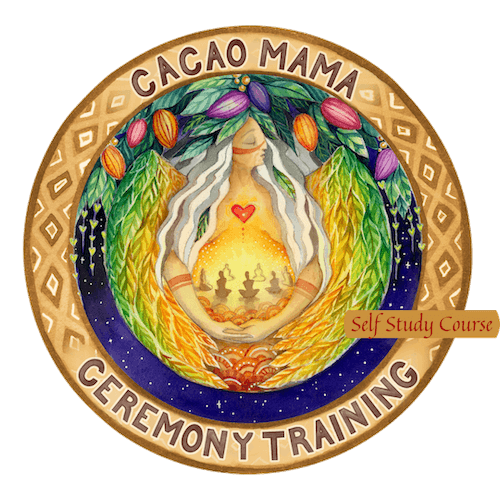 Cacao Mama Ceremony Training
The Art of Sacred Cacao
Online Training for Self-Study · In English
Study the entire program or choose to book single modules.

IN CEREMONY
"Spirit is calling me to remember my sacred connection and relationship with Mother Nature. I am invited to renew my bond with Spirit through ceremony and ritual, open to the ancient medicine of the circle and follow the lead into a deeper understanding of plant spirit, nature spirit and the spirit of my own being. I commit to be in sacred service to Pachamama and receive Cacao's ancestral wisdom and unifying consciousness to weave a new connected global culture."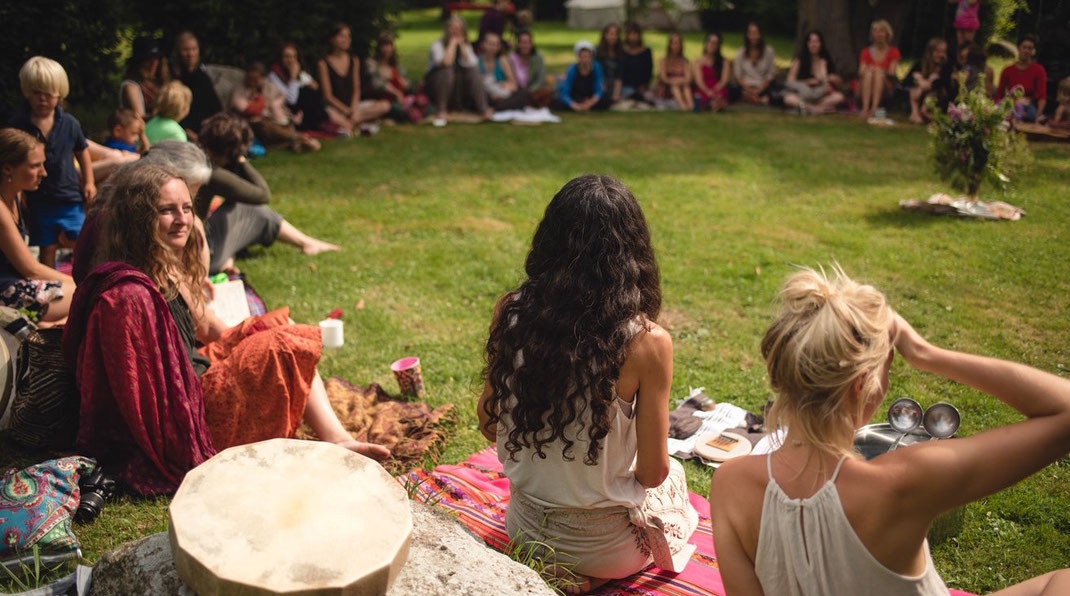 A Ceremony is a way of the heart and reflects humanity's sacred connection and relationship with the (un)seen worlds. Cacao Ceremonies respond to an increasing longing for connection, ritual and ceremony in an urban environment. - Serap Kara
THE INVITATION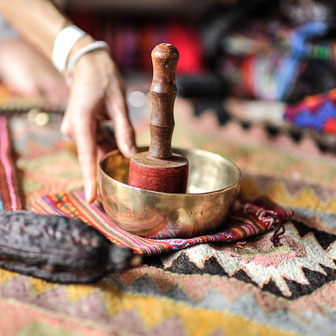 The Ceremony training is an offering for souls who have experienced cacao in a ceremonial setting, have started to offer the Cacao medicine in a ceremonial way or wish to deepen the art of being in Ceremony with the Cacao Spirit for themselves. Join our in-depth journey to gain a solid foundation and a deeper understanding on how Cacao weaves her medicine magic within a sacred group setting. Feel welcome to our sacred learning space. 
THE COURSE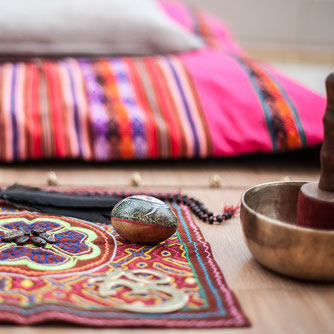 Cacao Mama's Ceremony Training is a guided online training into the loving, heart-centred consciousness of the Cacao Spirit. The Ceremony Training is composed of five chapters from The Art of Cacao guidebook for self-study written by Serap Kara, including the Cacao Mama Apothecary as a pdf file and 12 hours of pre-recorded audio material with exercises, deepening practices and meditations to come into alignment with the ancient future teachings of the Cacao Spirit.
ABOUT SERAP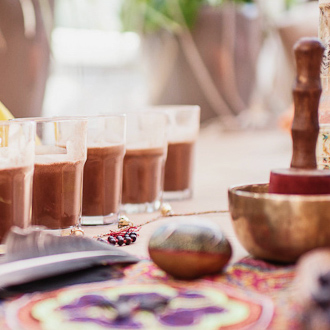 The Cacao Ceremony training is led by Serap Kara. Serap's teaching has been rooted in dedicated service to Cacao for more than a decade, and she shares deep wisdom and a global perspective. Her approach is earth-rooted and stellar, warm, kind, and supportive. Serap creates finely-tuned spaces and offers avenues to connect with Spirit, be in Ceremony and trust our unique medicine ways so that we remember: we are always in ceremony and we are the centre of it.  
prerequisite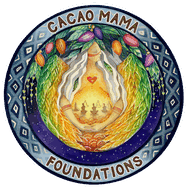 The participation in the Cacao Mama Ceremony training requires that you have experienced at least one Cacao Ceremony, know how to prepare a ceremonial cacao for yourself, and have created a first subtle connection with the Cacao Spirit. If you have never experienced ceremonial cacao before but feel called to join this training, and likely cannot even explain why - don't worry, we feel you. We have designed Cacao Mama Foundations as a basic introductory course to provide a solid foundation before starting this in-depth training. 
At Cacao Mama Foundations we look into the structure of a Cacao ritual or ceremony and explain in pre-recorded audio files along with pdf handouts the main elements of a ceremony such as intention setting and creating sacred space, what to do with your ceremonial cacao, once it arrives on your kitchen desk (including use, preparation, storage, handling), insights into the origin and history of sacred Cacao and a guided meditation to connect with the Cacao Spirit. Take me to Foundations
THE CACAO CEREMONY TRAINING
Module 1 · Spirit Worldview & The Cacao Spirit
A spirit worldview and being in relationship with Nature
The structuring principles of the medicine wheel and crating a sacred space where you live
Cacao's spiritual medicine and unique offerings for body, soul and spirit
Working with a Cacao Ceremony Blueprint
Module 2 · Cacao COMMUNICATION & CONNECTION
Avenues and gateways to invite and respond to the vibration of Cacao
Intuition, intention and calling in the medicine
The role of trust and permission in spirit work 
Archetypes of the Cacao Collective
Coming Full Circle and Connection Rituals
Module 3 · Sacred Cacao Ceremony
An introduction to rituals in traditional and modern use 
Techniques for designing, preparing, opening and closing a well-grounded Cacao experience
Different approaches for how Cacao can be used in ritual work
The Medicine of the Circle
Module 4 · Cacao in Circles & Groups
Expanding with your groups and circles
Cultivating a loving  relationship with your guests
Group dynamics, holding space and intensity (in-person and online)
Business Practices & Code of Ethics
Module 5 · ALONG THE LINES OF HISTORY
Social, economic and religious role in Maya & Aztec culture
Ancient and today's sacred wisdom and use
The European transformation and the cutting-off of its spiritual axis
Cacao's new global mission as a Rainbow Medicine
would you like to listen to a sample of the first chapter?
Please note: Full ceremonial doses of Cacao are not recommended for people who are taking antidepressants (Cacao contains MAO inhibitors), or who have a serious heart condition, or have very high blood pressure or suffer from epilepsy. Pregnant women may take smaller amounts. 
INVESTMENT & VALUE
Book the complete ceremony training
The investment for the Cacao Mama Ceremony training is 405 EUR. The fee includes:
The Art of Cacao practitioner guidebook with gateways, exercises and additional resources written for practitioners with 100 pages
Pre-recorded complementary audio files between 2 - 3,5 hours  per chapter for download to deepen each module with a total of 12 hours of teaching, exercises and meditations
Receive this bonus material if you book the entire course:
Cacao Mama Apothecary as one pdf file with 13 coloured pages
A facilitator login with 10% discount on Ceremonial Cacao in the Cacao Mama store
A 40-minutes pre-recorded video ceremony for transitions with Serap Kara
Choose to study in single chapters & modules
All five modules are designed as self-contained chapters and include a) the colour workbook PDF files and b) audio files with six to eight tracks each and a total of 2 - 2.5 hours of exploration, practice and meditation. Module 3 - Sacred Cacao Ceremony comes with a 3.5-hour audio file.  Now you have the opportunity to book each module one by one: This allows you to take breaks, study what interests you and get to know us and our world view. If you decide to continue the journey and book the entire course your will receive the bonuses and be offered a one-time reduction of 45 EUR.
Module 1 · Spirit Worldview & Cacao Spirit
Investment 90 EUR
Module 2 · Cacao Communication & Connection
Investment 90 EUR
Module 3 · The Sacred Cacao Ceremony
Investment 135 EUR
Module 4 · Cacao in Circles & Groups 
Investment 90 EUR.
Module 5 · Along the Lines of History
Investment 90 EUR.
Our Terms for Digital Products
Once you have completed your booking, the material will be instantly available for download. Due to the digital nature of these products and services, we do not provide change of mind funds and no return or refund. If you have questions or concerns, please email us at blessings at earthschool.love
Recommendations & Guidelines
The Cacao Ceremony Training is the most complete course that we offer if you wish to dive deep into the consciousness of Cacao and learn the Art of Holding a Cacao Ceremony. We recommend to take  the entire course to receive both the activation as the full  picture.
We have created each chapter as self-contained chapters and offer them as single modules for the very first time. This will allow you to study what interests you, get to know our work and glimpse into our world. The heart of each module is the practitioner workbook and a complementary 2 - 2,5-hour audio file (module 3 comes with a 3,5-hour audio file).
Whether you book the entire course or single modules, we deeply encourage you spend less time in front of the screen and spend more time in nature. Download the material, print out the workbook and listen to the audio files offline, on a walk outside or with a cup of chocolate in ceremony.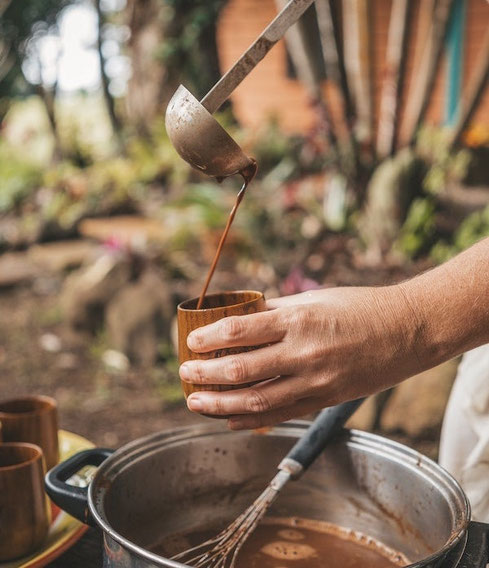 FAQ
What is the refund policy?
Due to the nature of this product and service, there is no return or refund for any digital products and we do not provide change of mind refunds. If you have questions, please email us at blessings at earthschool.love
Can I invite others to participate with me or CAN I SHARE SOME MATERIALS WITH OTHERS?
Each registration is for one person to be part of the course. If others would like to participate, please encourage them to register separately. We ask that you do not to share the materials (workbook, audio files, meditations) with other people.
How long will I have access to this course?
We recommend that you download all material to your computer immediately. After that you will have six months access to this course.
Can I try one module first and then decide to book the entire course?
Yes, you can book one module first and then decide to take the full journey. A one-time discount code of EUR 45 will be available in the classroom.
Will there BE live sessions?
In this course we do wish to limit screen time to a minimum by offering a maximum of insight and guidance. Therefore there will be no live sessions. We invite you however to visit an online or in-person Cacao Mama Ceremony when offered.
Will I RECEIVE a certificate?
Certificates are issued in the live courses after submission of a final exam only. This course is for self-study and we do not provide certificates.
Will I be able to offer a Cacao Ceremony After Completion?
This is a very special agreement that you make with the Cacao Spirit. You may be in Ceremony with people one-on-one, groups or the beings of Nature. Some people start offering a Cacao Ceremony while doing the course, others integrate the teachings over a period of time and then offer a Cacao Ceremony. Be open. Trust the connection.
Do I need experience WITH CACAO to book this training?
The participation in the Cacao Mama Ceremony training requires that you have experienced at least one Cacao Ceremony, are a Cacao Lover, know how to prepare a ceremonial cacao for yourself, and have created a first subtle connection with the Cacao Spirit. We have designed Cacao Mama Foundations as a basic introductory course to provide a solid foundation before starting this in-depth training. 
SERAP KARA
Hello, my name is Serap and I welcome you! I'm a Medicine Woman, earth guardian, teacher and the founder of Cacao Mama and the Earth School.
I'm in service to Pachamama and the Cacao Mother, and have helped to open the consciousness for the Spirit across the borders of Europe. I've shared the space with people from all around the world and all walks of life in hundreds of ceremonies, medicine circles and learning experiences. I love to create finely tuned spaces to root into trust and receive permission, so that we may remember our natural state of Spirit connection and the way of ceremony to be in service to a greater harmony.
Cacao Mama is a guide and midwife for an awakened consciousness and I'm sharing her essence with our global community. Cacao Mama is for the lovers, the tenders, the teachers, healers, speakers and ambassadors in and outside of you. Cacao Mama's medicine heart beats in rhythm with Pachamama and the heart of the forest. May you be guided while you remember your roots and trust your unique medicine way for weaving the golden threads for a peacefully connected global culture. May you offer your power and voice to speak up for the preciousness of life. 
Voices

"I had such a beautiful experience through this training. My heart and womb connected in ways i didn't know was possible. I had now idea a plant could open up so many realms inside of me. I really enjoyed listening and absorbing all of Seraps knowledge and wisdom on this scared plant. I really enjoyed all of the ceremonies i learnt something new about cacao and about myself at each one. I would recommend Seraps training to anyone who feels called to cacao and feels called back to themselves." — Amanda Walsh
"Thank you Cacao Mama for the healing wisdom of the Cacao medicine.The most beautiful insight given to me, is to understand that every moment of our lives is a ceremony.We only need to be mindfull and bring our awareness and intension into the moment. This is a beautiful way of living, caring and sharing from our heart to other hearts. Love and gratitude." — Pia Frandsen
"The space Serap holds is one of deep acceptance and transformation.The kindness of her heart held us all through a very powerful and deep exploration of our own medicine and our own connection to Cacao Spirit. I always felt a lot of freedom to find my own way of connecting to the plant Spirit and at the same time, I felt deeply guided step by step by her words, her energy, her wisdom. As I emerge from this space I feel a deeper connection and trust to my inner knowing. I now feel gently empowered to offer this medicine in alignment with my heart and with the natural and imaginal world. I keep in my heart the memories of our beautiful and supportive circle of women and the amazing meditation journeys we took together. If you are longing for a deeper connection with this wise plant Spirit I fully recommend journeying with Serap and Cacao Mama." — Camille Barrios
"When I started the training, I knew this would be an amazing journey - but I'd have never thought it could change my world view so profoundly. Diving deeply in the world of Cacao showed me more possibilities, more potential, more power than I've ever experienced. I feel like a gained a new friend: Mama Cacao. And I love that. The ceremonies we experienced together were my most favorite part. It was all together an adventure. I started to connect to nature on a much deeper level, going to the wood frequently, talking to the wood and plants and sensing even subtle energies. I would recommend this to ANYONE! Anyone, who feels the call for Cacao.." — Sophie Moriggi    
"I am grateful to your ceremonies. I am on the spiritual path and have beliefs in energies and trusting in the Universe.This is a new thing and my faith grows stronger month by month. Since starting this course I have lead three successful, working ceremonies so it has given me the confidence and experience to do so. Thank you for building my confidence working with cacao and teaching me how to hold space for the cacao spirit so i can facilitate space so people can benefit from the medicine. " — Bella Sommerset
"Cacao Mama training brought me peace and clarity. Serap's teachings opened my heart to feel into the bigger picture and yet keep it rooted in the earth. Cacao Mama unearthed ancestral knots, connected me to ancestors and their wisdom. Tapping into ancestral energy brought healing into my family lineage and now I feel a clearing in my heart to really step forward to be of service in ways the women of my family were unable to do generations before me. As a whole the course was spectacular, you're really taken on a journey with Serap and the Cacao spirit, the modules are insightful and full of knowledge, the teachings encourage you to find your own voice and connection to Cacao and you're also encourage to tap into your own intuition too. A truly beautiful experience."  — Katie Ness
"The Cacao Mama Ceremony Training was a beautiful experience that I would not want to miss! It has deepened my understanding of the Spirit of Cacao and its cultural origins, it has given me valuable encouragements and tools to connect with Cacao and build a valuable relationship.The course has given me inspiration, wisdom, wonderful experiences in ceremony with myself, encouragement, sisterhood, knowledge, the experience of my power to spread love and it has been another step towards my dream of the new world!" — Carola Benn
"I found this training to be beautifully nourishing and expansive in so many ways. It was nurturing yet powerful. I have truly stepped into my creativity in my business - and also had the courage to step into the next phase of my healing journey. I loved being part of a community of those who were all called to deepen their connection to the Cacao Spirit. I would recommend this for anyone who wants to deepen their personal connection with Cacao and also bring it to others with integrity. I enjoyed it so much.Thank you." — Lauren Barber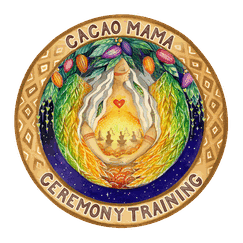 If you wish to be informed about upcoming workshops, retreats and activities, please sign in for our monthly Cacaoletter/In Ceremony Magazine

Cacao Mama is a midwife for an awakened consciousness and a commitment to take your place in the ever-present Ceremony called Life. Rooted in the golden heart of Mother Nature Cacao Mama is a guardian, a speaker, an ambassador and a bridge to the Cacao Collective. Cacao Mama offers a powerful medicine to come into alignment with your spiritual essence and cosmic vision to be in service to the invisible harmony that surrounds and informs us constantly. Access Cacao Mama's wisdom library to become a 'midwife' for a loving, heart-centred consciousness that calls to be anchored in this now.