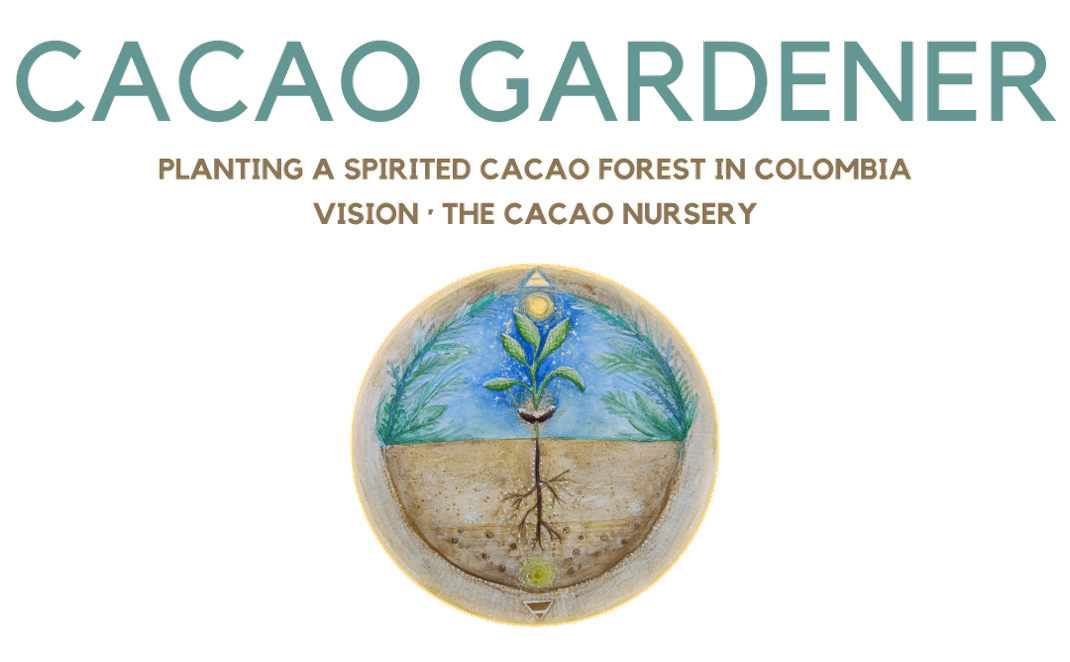 CACAO GARDENER VISION · THE CACAO NURSERY
01   Before the Beginning
02   Choosing the Right Seeds
03   The Cacao Nursery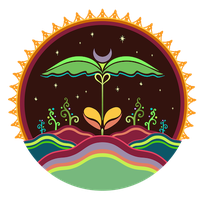 04   Nourishment, Roots & Cycles
05   A Messenger of the Heart
06   Growing a Cacao Tree at Home
GROWING A CACAO TREE AT HOME
TEXT & PICTURES by SERAP KARA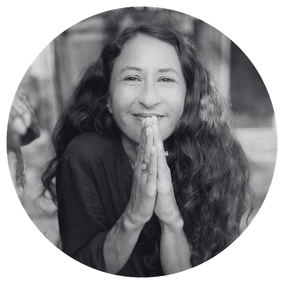 Have you ever thought about growing a Cacao Tree at home?
In 2014 I had a source to fresh Cacao pods from Ecuador. It was such a treat and I loved to being able to eat fresh Cacao in Berlin city and at the same time study the unique properties of fresh Cacao. People who came to visit me often had the chance to try the fresh rather bitter seeds surrounded by a sweet and delicate pulp and thus get in touch with the origins of the sacred Cacao seed.
When the pods arrived they were hardly ripe. You need to wait and catch the right moment. To find out if a Cacao pod is ripe you press the pod gently and may feel the minimal space between the seeds and the shell. Depending on the variety this space may be smaller or a bit larger. But you can feel when the Cacao pod is ready, especially if you had pressed on a pod not ready before.
I loved sharing the Cacao magic with friends and customers. In Cacao heaven, I loved to open the pod and to study the bean in all its different stages. Sometimes the pulp was very white and consistent. Sometimes the pulp was more transparent and more delicate. But always sweet. Suck the sweet pulp, you will eventually meet the naked bean. Spill it out and you'll see a unique structure on its skin, fine lines on its surface, geometry, patterns all of which remind of organs such as the heart, the brain or the kidney. Sometimes a fresh seed can be dark brown, sometimes pink or whitish in colour. 
Once I had a Cacao pod that was overly ripe, and inside, the seeds had started to sprout. Until then I had never thought about growing a Cacao tree, perhaps because this little yet important information was missing in Cacao Mama's world. Where is the origin of a Cacao tree and how would one go about cultivating one? I thought about foods that begin to live when putting into water - from sunflower seeds to lentils you can activate these foods and awaken them to life. After one or two days they start to sprout and turn into a living seed ready to grow with the light. You cannot do this with Cacao. It came to me that you actually need fresh Cacao to grow a Cacao tree. And here the seedlings were offering themselves to me. 
I prepared the ground and covered the seeds with little soil, imitating the seeds fallen on the forest floor. It was in April 2014 in Berlin when I placed 19 sprouts inside the earth.
Then, I arranged little nests of soil and placed the cacao seedling with the little white sprout towards heaven, towards the sky. Imagining that this will be the green part of the plant. I didn't realise that I planted it - upside down. What I was seeing was the root.
I watched and waited but none of my seedlings survived. I  hadn't enough material to start all over again and see where I had failed to improve. I had to admit that living in Berlin city wasn't the tropical environment in which Cacao grows naturally.
Only later I learned that Cacao grows a tap roots first. Its first contact is with the earth. Then  it grows the plant.
The bean is the power house nourishing the newly growing Cacao baby until the little seedling is ready to shed its skin and continue its journey into the earth and towards the sky. 
I love sitting with this fact in Ceremony and be mesmerised by the magic Cacao offers to be witnessed.
THE CACAO GARDENER VISION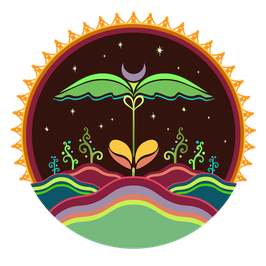 Plant a Cacao tree and help setting up an entire forest. Our initial goal is to secure 450 guardianships and beginning with the Spring Equinox 2022 nurse, establish and plant 1 hectare of Cacao forestry ecosystem with a total of 1,111 Cacao trees, 1,000 plantains and 130 oak trees that serve as mother shade trees to the Cacao. This is gonna be an exciting journey and you are invited to be part of every step from seed to Cacao tree. 
Within five years we intend to help planting altogether 11,110 Cacao trees, 10,000 plantains and 1,300 oak trees adding up to 12,410 trees on 10 hectares of land. It is our intention to seed - with every planted tree - blessings, consciousness and an environment that allows us to put our hands into the soil and feel deepest kinship with the natural world.
THE CACAO GARDENER MAGAZINE IS A CO-CREATION OF CACAO LOVERS, GUARDIANS & GARDENERS WHO HAVE EMBARKED ON A CACAO GARDENER JOURNEY AND WEAVE INTo THE VISION OF A SPIRITED CACAO FOREST ♥︎