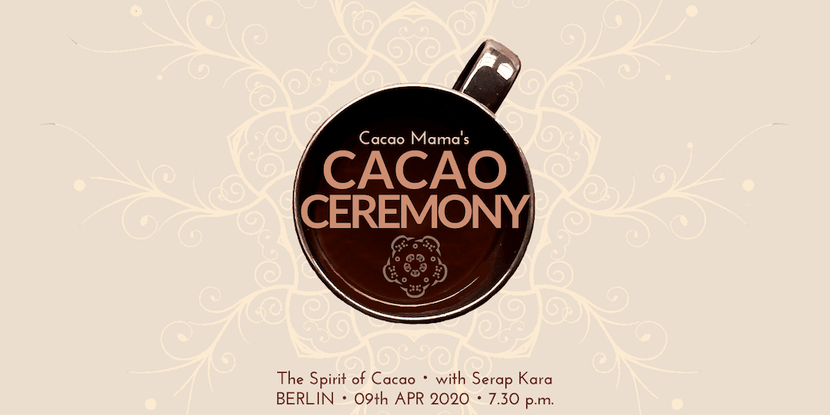 THE SPIRIT OF CACAO
---
The Spirit of Cacao is a teacher, a keeper of ancient, sacred wisdom. The spiritual dimension is perceived as radiant energy, described as a medicine of the soul, medicine of peace and rainbow medicine. On the eternal, cosmic world map, Cacao marks one of the great world trees. Representing this tree of life, Cacao carries the frequencies of love, balance and compassion, allowing a deep, loving connection with yourself and others. Feel invited to a heart-opening ceremony with Mama Cacao, a sacred space to ground yourself, recalibrate your inner spaces and expand your being in spacious, loving waves.
THE EXPERIENCE
---
We will bring our hearts in one beat and rhythm with Mama Earth, drink a cup of chocolate together, invite the nature spirits and Mama Cacao into our circle to create a harmonious matrix with all living things. Enter a multi-dimensional state of expanded awareness to align the many layers of your being. You are invited to connect with your heart, your intuition and inner sources of strength and creativity. Through sound, meditation, music and silence we expand the inner sacred spaces and receive the loving heart-opening and cosmic vibration of Mama Earth's comic vision of herself.
The sacred ritual of drinking chocolate together.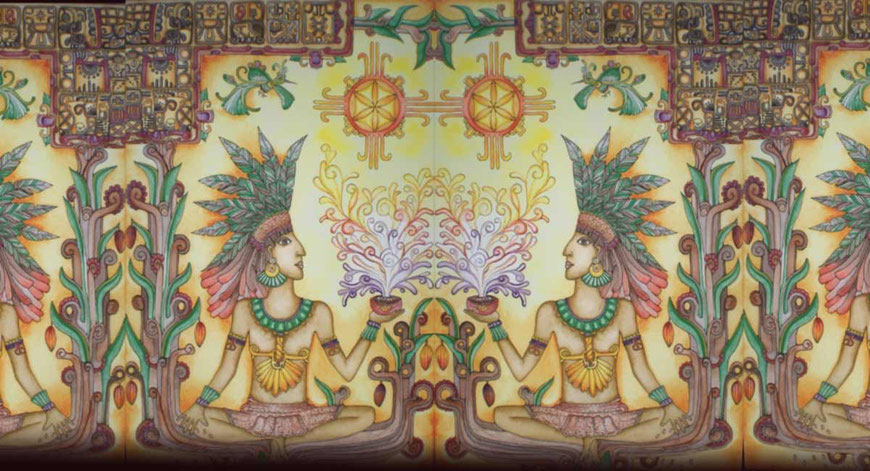 DETAILS
Cacao Ceremony
Thursday, 09th April 2020 · 7.30 - 10.30 p.m.
In German
Investment: EUR 45
 Eden Studios in Berlin Pankow 
Please note: 
You shouldn't work with ceremonial doses of Cacao if you are taking antidepressants or if you have a serious heart condition. Please let me know if you have any questions. 
YOUR GUIDE
---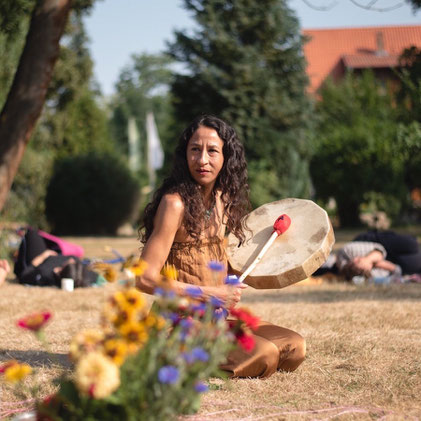 I'm Serap, Medicine Woman, Earth Guardian, teacher and Cacao Lover. My love for plants was initiated by a spiritual encounter with the Spirit of Cacao in 2011, which led me onto the path of Sacred Plant studies. This was followed by an intense study of global resources, energetic healing and Earth inspired wisdom from across many cultures. My medicine heart beats in rhythm with Mother Earth. I love to create finely tuned healing experiences in order to assist you in aligning with you inner gold.
The Earth School is about re-establishing a connection with the Earth Tribes, harvesting the messages found in the Soul of Nature, cultivating wisdom together and offering our power & voice to speak up for the preciousness of life.
The way I serve Cacao is very gentle. Come and sit with me and allow Magic to unfold. I look forward to sharing the space with you!
Credit: Jacky Louan Photography
REGISTRATION
---
INVESTMENT
Seminar Fee: EUR 45
TERMS & CONDITIONS
With the submission of this registration form, you receive a confirmation within 1-2 days that a place is reserved for you. With the transfer of the tuition fee at the rates indicated above, your participation is confirmed as obliging and the place is firmly booked for you. Payment is due by bank transfer at the latest by 5 working days after receipt of the reservation confirmation.
In case of cancellation 2 weeks before the start of the event the fee will be refunded, 1 week before the event, 50% of the fee has to be paid, 48-24 hours before the start of the ceremony 100%. Decisive is the date of receipt of the withdrawal declaration via email. You have the possibility to name a substitute participant.
This is an educational event. The nature of the work is such as to include deep personal processes of an introspective and meditative kind. Participants are responsible for taking care of their own processes and their own wellbeing at all times, as this training is not intended as a therapeutic space of any kind. The participation, including the arrival and departure, are at participant's sole risk. The instructor is not liable for damages of a spiritual, physical, psychological or material kind.
Please note: You shouldn't work with ceremonial doses of Cacao if you are taking antidepressants or have a serious heart condition.
For further communication, please add happy@cacaomama.com to your address book.