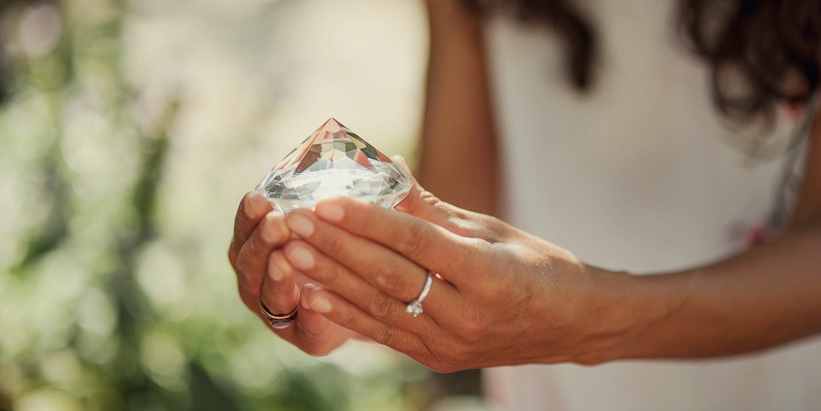 THE ART OF RITUAL & SACRED SPACE
Creating Transformative Spaces
- with Serap Kara - 
Berlin · Eden Studios
*** NEW DATE ***
June 18th - 21st, 2020
10 a.m. - 5 p.m.
In English

The Art of Ritual & Sacred Space is a 4-day calibration to initiate healers, leaders, yogis, teachers, healing artists and creatives with energetic activation and sacred tools, giving you the possibility to create finely tuned healing experiences for yourself & others.
THE INTENTION
---
Sacred Spaces & Rituals reflect the universal matrix of structure, harmony and interconnectedness. They hold a key to understanding the rhythms of the Earth, the universal heartbeat and the cosmic ecosystem. When acting within this harmony, we can reshape and weave a new reality. What is the underlying architecture of a well-structured Sacred Space and how can I create, aligned with the natural forces of life, finely tuned experiences for myself and others?
This initiation is a holistic weaving of; metaphysical concepts, energetic healing, the teachings of native peoples within the architecture of Space, sacred geometry, and Earth inspired wisdom. We will gently open the doors of perception and invite the loving forces of Nature and the Cosmos into our medicine circle. You are invited to remember the truth within your heart, expand your Sacred Self and learn how to share The Art of Ritual & Space.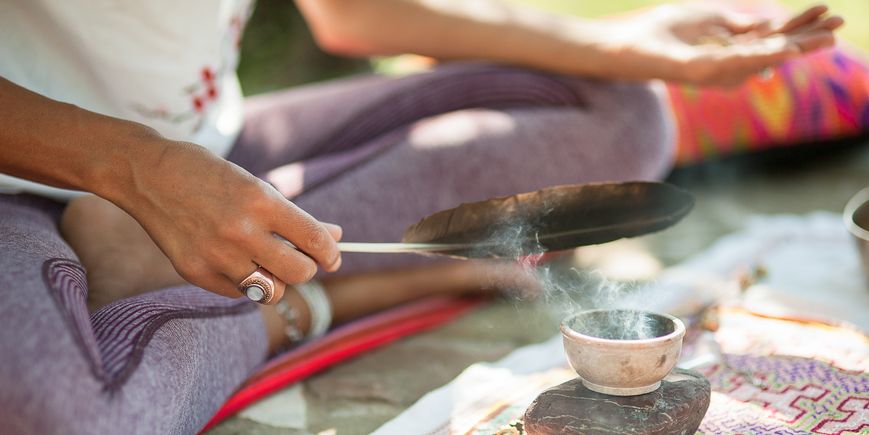 RITUALS & SACRED SPACES
---
Rituals represent the cycles of human life. They offer orientation within the rhythms of Nature, and they offer a form of interaction with the environment, often symbolizing important transitions. Rituals exist in every culture; they can be individual, cyclic, life-cyclic or event-related. In a ritual, a material transformation takes place, which symbolically shows what may change on the subtle level. Rituals are therefore highly symbolic.
Rituals build bridges between worlds, and from one form of being to another. A ritual can open a fine channel from the mundane world into the soul of Nature and the mysteries of life. In order to experience the sacredness of life and ourselves in our highest potential, we need safe spaces; well-grounded and structured spaces that help us to open with trust, to cross these transitions calmly with intention and focus.
Rituals and sacred spaces are art forms based on blueprints. Regardless of the particular culture, they are consistently aligned with the currents of Nature and the luminous forces of the Universe. They contain fixed anchor points, pathways, and recurring elements. If you look at, understand and internalize this blueprint, you may transform actions, moments & projects into a ritual to create greater harmony on a personal and professional level.
"Because you are Sacred Space"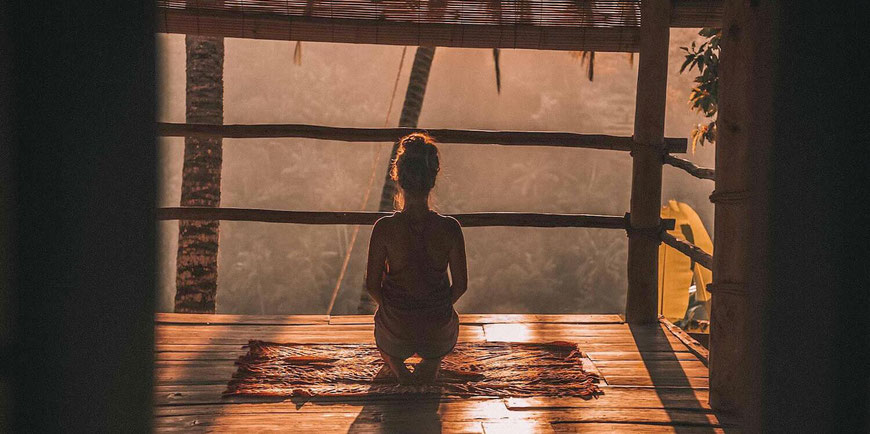 This training can assist you to
harmonize important transitions in your life

generate energy from sustainable sources

experience an expansion in your personal growth

establish an individual practice that pulsates in unison with the rhythmical cycle of nature

gently open the doors of your perception

take courage to create rituals for your personal transitions

remember your personal gift to humanity

create gentle access to the elemental forces of nature and the light beings

enhance your personal and professional skills through rituals & sacred spaces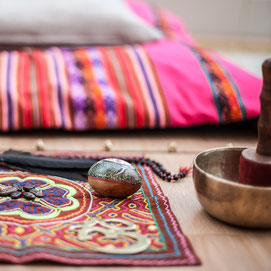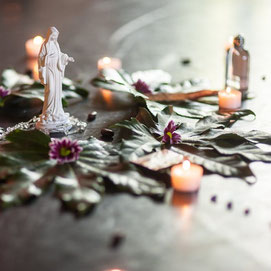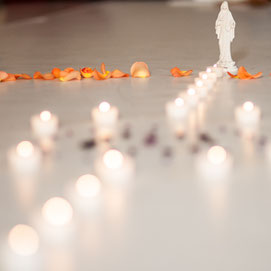 RITUAL & SACRED SPACE STUDIES
---
Ritual
Explore types and applications of rituals in traditional and modern use

Review various approaches to ceremony and energy work

Discover elements from nature-based rituals to shamanic journeys

Design a ritual that reflects and supports a personal moment of transition
Sacred Space
Dive into the geometry and architecture of the sacred space

Picture the Dream Weave as an intuitive model of connection

Consider being in a relationship with the seen and unseen world

Experience the medicine of the Circle for personal and group work
Experience Design
Understand the art of crafting a ritual from a design perspective

Learn practices to prepare, open and close the sacred space

Explore group dynamics and your role as a space holder

Create a blueprint for a safe, well-grounded and spiritually enhancing experience
Intention, Intuition and Purpose
Understand the energy of pure intention for any spiritual practice

Learn ways to enhance your connection with the spiritual world

Explore the power of song and voice, prayer and blessing

Feel into the language of your intuition and work with intention
Inner Space, Outer Space and Boundaries
Travel the inner landscape and set up an inner ceremony space

Discover archetypes and images of the soul

Invite benevolent energies to your ritual work

Explore practices for self-care and ritual safety
Traditions, Cultural Wisdom and Local Roots
Develop an understanding of cultural heritage and Code of Ethics

Explore myths, story and ritual from your culture, lineage and land

Review practices to ground, anchor and regulate the intensity 

Discuss the relevance of authority, consent and permission for your work
Navigating the Urban Jungle
Understand the essence of ritual work as a way of enchanting Nature and honouring Life

Learn ways to practice Spirit connection in the urban jungle

Discuss actions to practice the art of cultivating wisdom together

Create pathways to give to the Mother to come full circle within your offerings
Ritual Dream Time
Together we will weave and implement a shared Ritual Dream Time Meditation and receive the medicine of Cacao to connect with our roots,  our purpose and the heart of Creation.
LET ME INTRODUCE MYSELF
---
I'm Serap, Medicine Woman, Earth Guardian, Teacher and Cacao Lover. My love for Spirit was initiated by an encounter with the Spirit of Cacao in March 2011, which led me onto the path of healing arts studies and remembering. This was followed by an intense study of global resources, energetic healing and Earth inspired wisdom from across many cultures. In this Earth cycle, Cacao lead me to connect with my Anatolian shamanic medicine tribe, where I source my power from.
My medicine heart beats in rhythm with Mother Earth. I founded Cacao Mama and the Earth School to be a bridge between Earth & Cosmos, to serve the Great Intelligence and the Ancient Ones for the generations to come.  I love to create finely tuned healing experiences, so that we may remember the way of ceremony, and to assist you in aligning with your medicine, and offering your power and voice to speak up for the preciousness of life. The Earth School is a school of light, speaking to the guardians, the healers and the visionaries. 
I look forward to sharing the space and this journey with you!
THE ART OF RITUAL & SACRED SPACE
---
Thursday, 18th June until Sunday, 21st June 2020
4-day intense
In English 
Daily Schedule 10am - 5pm 
10am-10.30 
Morning Invocation
10.30-12.30pm 
Teachings
12.30pm 
Shared Lunch
1.30-4.30pm 
Tools, Techniques & Practice
4.30-5pm 
Reflection & Sharing 
INVESTMENT & VALUE
---
Regular Tuition Fee EUR 540
Participants 26 years and under EUR 450
The fee includes ceremonies, rituals, teachings, meditations, energy work, a shared Cacao Ceremony, a one-on-one call prior to the course, The Art of Ritual & Sacred Space workbook & a Cacao Mama Earth School Certificate. 
The Spring Well - Please consider making a donation to  the Spring Well, an education fund set up by the Earth School to give to and support younger participants. Your gift will enable a younger person to participate and hopefully open up new ways to navigate these critical times.  
EDEN STUDIOS · THE STUDIO & CAFÉ
---
THE LOCATION & ACCOMMODATION
---
 The Art of Ritual & Sacred Space will take place at Eden Studios in Berlin.
Breite Str. 43 - 13187 Berlin - Pankow.
Eden Studios is located in the Northern part of Berlin, the district is called Berlin-Pankow.
The lovely neighbouring district of Prenzlauer Berg has offerings of guest rooms and private accommodation.
Eden Studios***** offers a small number of guest residencies.  
Visit the website or write an email to Eden Studios to Eden referring to Cacao Mama..

VOICES
---
"The Art of Ritual and Sacred Space invited me to flow into a nourishing state of presence and trust, allowing me to drop into the stillness of my heart and listen to my Souls Whispers. Serap guided and supported all of us with an energy that was both grounding and uplifting as we remembered our Sacred Space within and reconnected with the beautiful forces of Mother Nature that are so openly and lovingly available to each and every one of us. I experienced and continue to feel the most magnified and profound sense of Gratitude for my Life.  Sitting in circle with so many strong and empowered Women has inspired me to continuously evolve past my comfort zone, even further than before and to celebrate life each and every day." --Charlie
"Thank you for the space you have created and the journey you have taken me on. I have learned a lot about myself, the hidden places in my consciousness, the "underworld". I've seen the shields and protection I've put around myself, and I learned that it is not fear that hurts me but resisting it. I've learned that the sacred space is inside myself, this is where my relationship with the elements, with Mother Earth and the Spirit world develops. And that using intention, inspiration, imagination I can create my own world inside the larger world, which serves as a doorway to the inner sacred space. And there, I can heal, I can find answers, I can explore and grow. I think the biggest thing I have learned was gentleness and compassion. Thank you for it." -- Dorina
If you wish to be informed about upcoming workshops, retreats and activities, please sign in for our monthly earthletter.