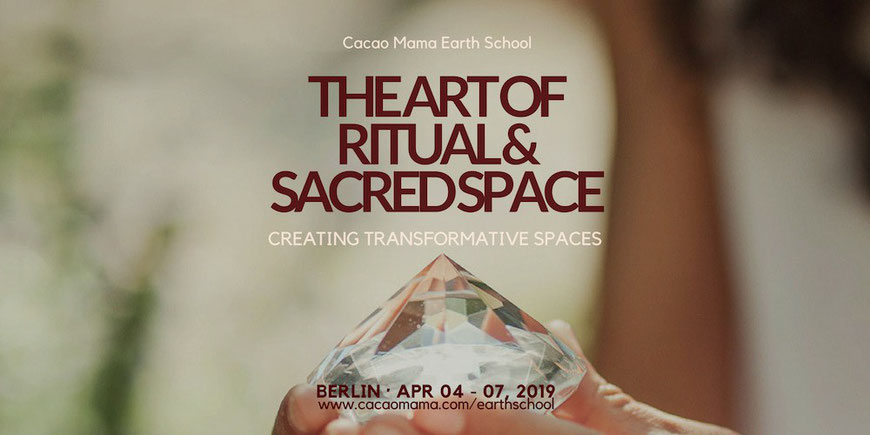 THE ART OF RITUAL & SACRED SPACE
Creating Transformative Spaces 
Cacao Mama Earth School
Berlin · Eden Studios
04th - 07th April 2019
In English

The Art of Ritual & Sacred Space is a 4-day calibration to initiate healers, leaders, yogis, teachers, healing artists & creatives with energetic activation and sacred tools to create finely tuned healing experiences for themselves & others.
THE INTENTION
---
Sacred Spaces & Rituals reflect the universal matrix of structure, harmony and interconnection. They hold a key for our understanding of the rhythms of Earth, the universal heartbeat and the cosmic eco-system. What is the underlying structure of a Sacred Space and how can I create high-vibrational experiences for myself & others?
This initiation is a holistic weaving of metaphysical concepts, energetic healing, the architecture of Space, sacred geometry and Earth inspired wisdom. You are invited to remember the truth within your heart, expand your Sacred Self and learn how to share The Art of Ritual & Space. 
Explore with me
how your energy system works

how the space inside of you is composed & the hierarchy of light is structured

sacred tools in the form of rituals, meditations and ceremony to connect you with your divine self

how to create a sacred protected space for yourself & others

how to design a loving, transformative and well grounded healing experience 

your skills in your work as a leader, healer, yogi, teacher, facilitator & healing artist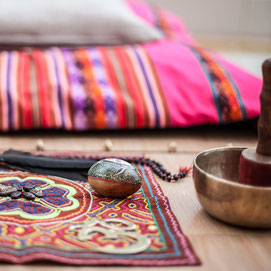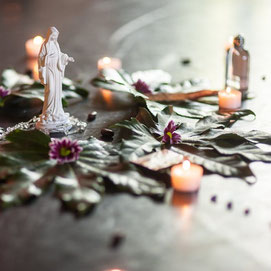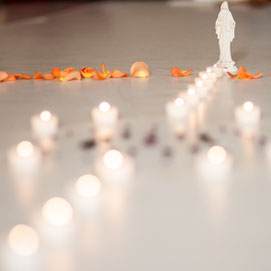 CURRICULUM
---
After setting the structures of the training we will explore:
THE SOURCE & THE SELF
The inner landscape - how the internal world is shaped

Sources of power that are available to you

Setting up your offering space - the ceremony space inside

Clearing blockages & unlocking what you have to share with the world

The setting of intentions as a holding container

As above, so below: the archetypes

Tools for energetic & physical cleansing, clearing blockages

Finding your muse through inspirations such as music, voice, silence, dance, creativity

Developing your unique creative way & energy signature
SACRED SPACE & RITUAL
The geometry of the sacred space

The Dream Weave - How the internal world shapes your outer reality

Creating a blueprint for a safe, well grounded and spiritually enhancing experience

The cosmic net of guidance & healing frequencies (ancestral, shamanic and celestial lines) 

Holding the vision for inner & outer transformation for yourself & others

Initiation of healing tools
EXPERIENCE DESIGN
Together we will set the Sacred Space for a shared Cacao Ceremony. 

Holding & navigating group interaction, honouring different cultures & beliefs and techniques for guiding participants through the experience

Opening, holding & closing the sacred space
LEADERSHIP
The Way of Council

Embodying leadership 

Your role as an Earth Keeper

Your unique offering in alignment with your personal gifts, services and vision to offer a positive, uplifting experience
YOUR GUIDE
---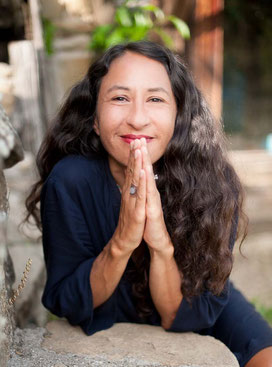 I'm Serap, a traveller, Earth speaker, healer, student of the inner gold path and guardian of the Cacao Spirit. My love for plants was initiated by a spiritual encounter with the Spirit of Cacao in 2011 which led me onto the path of sacred plant studies. This was followed by an intense study of global resources, energetic healing and Earth inspired wisdom from across many cultures.
My medicine heart beats in rhythm with Mother Earth. I love to create finely tuned healing experiences in order to assist people in aligning with their inner gold. Since founding the Cacao Mama Earth School, I became a student, learning from plants, trees and nature spirits and sharing my insights in ritualistic learning experiences.
The Earth School is about harvesting the messages found in the soul of nature, cultivating wisdom together and offering our voice to speak up for the preciousness of life. 
THE TRAINING
---
Thursday, 04th April until Sunday, 07th April 2019
4-day intense
In English
Berlin · Eden Studios
Daily Schedule 10am - 5pm 
10am-10.30 
Morning Invocation
10.30-12.30pm 
Teachings
12.30pm 
Shared Lunch
1.30-4.30pm 
Tools, Techniques & Practice
4.30-5pm 
Reflection & Sharing 
YOUR INVESTMENT
---
Tuition Fee:
EUR 540 Regular price
EUR 495 Early Booking (until 1st February 2019)
includes one Cacao Ceremony, teachings, meditations, initiations & energy work,
The Art of Ritual & Sacred Space workbook & Cacao Mama Certificate. 
Location
 The training will take place at Eden Studios in Berlin - Pankow. 
EDEN STUDIOS · THE STUDIO & CAFÉ
---
ACCOMMODATION
---

⊹⊹ If you wish to be informed about upcoming dates, please subscribe to our monthly newsletter. Love, Serap
REGISTRATION
---
INVESTMENT
EUR 540 Regular price
EUR 495 Early Booking (until 1st February 2019)
Includes one Cacao Ceremony, teachings, meditations, initiations & energy work, The Art of Ritual & Sacred Space workbook & Cacao Mama Certificate. 
TERMS & CONDITIONS
With the submission of this registration form, you receive a confirmation within 1-2 days that a place is reserved for you. With the transfer of the tuition fee, your participation is confirmed as obliging and the place is firmly booked for you.
In case of cancellation, I reserve the right to retain a processing fee of EUR 50,00. In the case of a cancellation 4 weeks to 3 weeks before the start of the event, 50% of the tuition fee has to be paid, from 3 weeks before the start of the seminar 100%. Decisive is the date of receipt of the withdrawal declaration via email. You have the possibility to name a substitute participant.
This is an educational event. The nature of the work is such as to include deep personal processes of an introspective and meditative kind. Participants are responsible for taking care of their own processes and their own wellbeing at all times, as this training is not intended as a therapeutic space of any kind.The participation, including the arrival and departure, are at participant's sole risk. The instructor is not liable for damages of a spiritual, physical, psychological or material kind.
For further communication, please add happy@cacaomama.com to your address book.