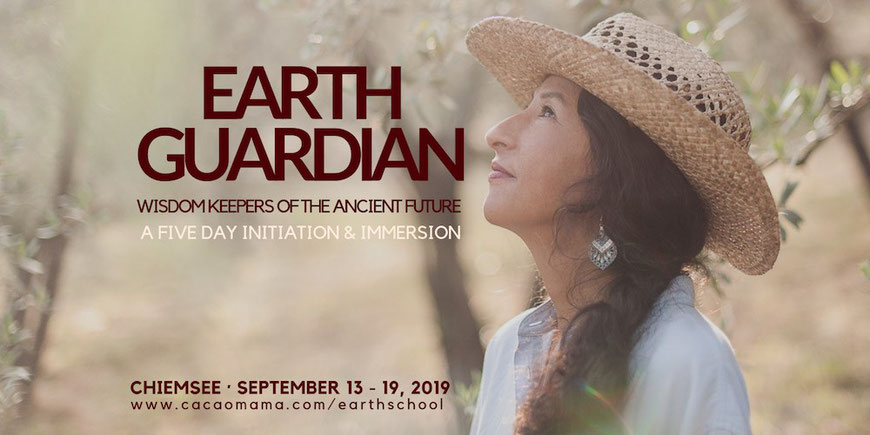 Earth Guardian
Wisdom Keepers of the Ancient Future
A five-day Initiation & Immersion
Cacao Mama Earth School
Traunstein am Chiemsee · Seminarhotel Jonathan
13th - 19th September 2019
In English

Earth Guardian is a 5-day immersive journey to initiate healers, speakers, teachers, dreamers and keepers with 'Ancient Future' vibration and sacred ceremonies. Enabling you to find your way back home to your Earth Tribe, and reconnect with its ways and wisdom, so you may offer your medicine to the evolution of the Earth Mother.
THE INTENTION
---
A new dream is emerging. It's whispering to you from the heart of the Earth Mother. The Earth Shamans & Guardians of life are calling you home. With a gentle voice they want to remind you of who you are. Remember. You hold the keys for creating an 'Ancient Future' that serves Future Generations. The Earth Tribes from around the world teach the wisdom of living, giving and acting within the integrity of the Earth Mother and all living things.
The Earth Tribe is awakening now, carrying a sense of interconnectedness in their hearts. Now is the time to come together in sacred union, to reclaim your power as a member of the Earth Tribe and to step into your guardianship of co-creating a harmonious matrix for all living things. What are the key alignments of the Earth Tribe and how can you fully trust your medicine?
This 5-day initiation & immersion is a holistic weaving of ancient future wisdom, cosmic streams of consciousness, the wisdom of the Earth Tribes and Shamans, and root, earth and body wisdom. You are invited to root deeply, open the doors of perception, invoke your medicine, and share your unique way as a Guardian of our beloved Earth Mother. 
Explore with me
Earth Tribes from around the world and their important messages for this time of transition

how the Rainbow Prophecy wants to come into being

how to enter a dream state to actively shape the reality

how to align with the Ancient Future to bring it into the here and now

how the internal offering space creates outer transformation in the most gentle manner

how to set up a powerful light circle that holds the codes of transformation

rituals, meditations and ceremonies to invoke your unique medicine

your role as a healer, speaker, teacher, dreamer and guardian of the Earth Mother
Welcome Earth Tribe!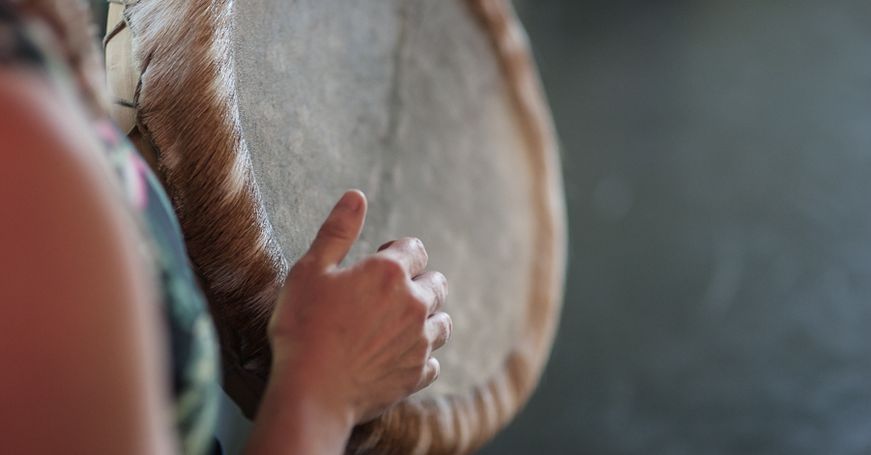 Our beloved Earth Mother is calling in the keepers, healers, dreamers and speakers. Now is the time to unite in sacred union to give birth to the new, ancient vision of herself. 
Remember who you are. Open to the wisdom of the Mother. Allow a space of truth to emerge from the depths of your soul, a space of magnificence. Share it freely with others.
Listen to the song within, calling you into the depths of your being. You are medicine. Sing often. Your song of compassion is needed to restore the balance of the Earth Mother.  
Dare to vision. The time is now. Remember how to create a medicine circle to release the tangles in the dream weave, creating a sphere for opening and transformation. 
Our togetherness is needed to restore the ancestral dragon lines. Stand like rock while receiving the codes to weave the dream. Because you are the medicine of the world.
This is a time to create a spiritual bond that has existed in the dream state for eons, beyond time and space. We will heal through remembering.
Welcome blessed Earth Guardian.
You are deeply loved
🜃
IN DETAIL
---
THE WISDOM OF THE EARTH TRIBES
Earth Tribes from around the world & their teachings

The rights of the Earth Mother

A cyclic & bio-centric perspective on our planet

The Prophecy of the Rainbow Tribe
EARTH & BODY WISDOM
Song lines, dragon lines & the planetary grid of the Earth

Rooting into trust

Setting up the ceremony & offering space within

Evoking and tapping into your personal, unique medicine to create a new vibration
EARTH GUARDIAN
The principles of spiritual, heart-centered leadership

Effective ways to serve the wellbeing of the Earth Mother

Offerings & giving back

Embrace your personal medicine to give birth to the new dream
ANCIENT FUTURE
Accessing the blueprint of the Earth Mother's dream

Ancient wisdom for the times to come

Working with the Earth Tribe & Shamans

Receiving codes that restore balance
MEDICINE CIRCLE
Together we will set up a powerful medicine circle that exists beyond time and space and connects us with a new vibration of togetherness. Held by each member of the circle, we will learn to embody the new frequency and be able to recreate this circle in our daily work.  
SACRED CEREMONIES
Fire Ceremony - Fertility

Water Ceremony - Purification

Earth Ceremony - Renewal

Air Ceremony - Illumination

Cacao Ceremony - Earth & Cosmos

Coming home ceremony
LET ME INTRODUCE MYSELF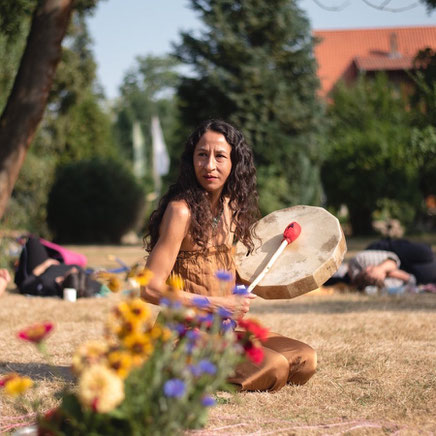 I'm Serap, Medicine Woman, Earth Guardian, teacher and Cacao Lover. My love for plants was initiated by a spiritual encounter with the Spirit of Cacao in 2011, which led me onto the path of sacred plant studies. This was followed by an intense study of global resources, energetic healing and Earth inspired wisdom from across many cultures.
My medicine heart beats in rhythm with Mother Earth. I love to create finely tuned healing experiences in order to assist people in aligning with their inner gold. Since founding the Cacao Mama Earth School, I became a student, learning from plants, trees and nature spirits and sharing my insights in ritualistic learning experiences that will serve Future Generations.
The Earth School is about collecting the messages found in the soul of nature, cultivating wisdom together and offering our voice to speak up for the preciousness of life. Earth Guardian is the fruit of a two-year listening and remembering 'quest' and I look forward sharing this beautiful vibration with you.
© Jacky Louan
OUR TIME TOGETHER
---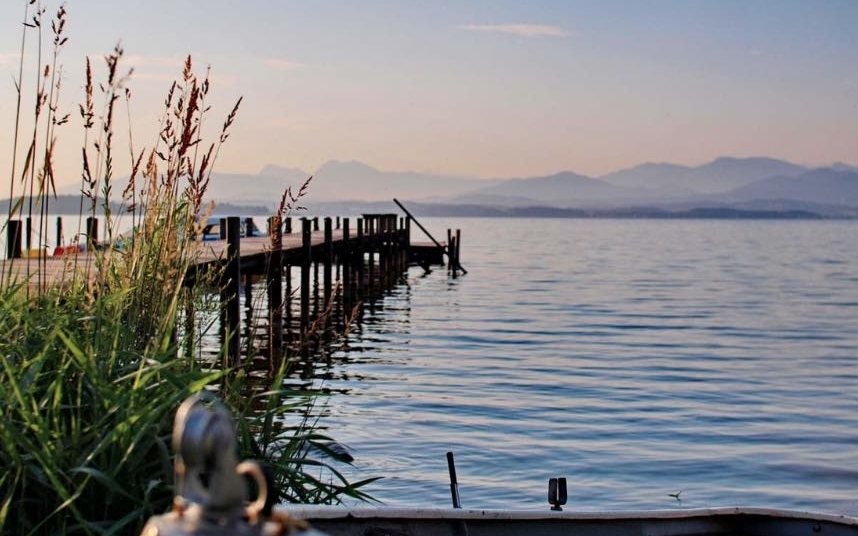 Friday 13th until Thursday 19th September, 2019
5-day Intense
In English
Traunstein am Chiemsee · Jonathan Seminarhotel
Earth Guardian starts 6 pm on Friday, September 13th. We will greet each other in a welcome ceremony.
Our time together closes at 1pm Thursday, September 19th after lunch.
Daily Schedule
8.30 a.m. 
Breakfast
10 p.m.
Teachings & Streams of Consciousness
12.30 p.m. 
Lunch
1.30 - 3 p.m.
Free Time
3 p.m.
Tuning in
4 - 7 p.m. 
Ritual Dream Time & Ceremony
7.30 p.m. 
Dinner
9 p.m.
Togetherness & Celebrations
YOUR INVESTMENT

 Tuition Fee  EUR 720
Includes inspirational teachings, initiations & energy work, daily ceremonies, rituals & meditations such as a ritual with the Mother Drum, a ceremony in the hot pool and sauna, time in nature, a one-on-one call prior to the training & Cacao Mama Certificate.
Accommodation & travel is not included. 
EARTH GUARDIANS SHARE

The Earth guardian called me it was a calling I heard to the depths of my soul and yet I find it hard to find words to explain or describe my experience and the time spent with Serap I can confidently say that this journey paved the way for a new frequency of healing here upon earth
To be part of this experience to be part of this journey deep into my internal landscape has left and brought the most profound shift not only within myself and my life but the space and offerings of secret healing I bring to so many women
To be part of this experience to know that I was part of the re-awakening the remerging and the weaving of this ancient new vibration here on earth leaves my heart open and full of unconditional joy and love simply for the opportunity to be in the presence of the powerful sisters during our journey together. In love in power in devotion.
Rebecca, UK
Spending 6 days with Serap on the Earth Guardian retreat was one of the best thing I gifted myself with for a long time.
The days were spent in meditation, sharing and honouring the Earth and the elements through ceremonies. It has helped me reconnect to that ancient part of myself who knows the way back to nature, to myself, to my body.
I came back with more consideration for the planet I live on, more gratitude for this life and it has impacted my teaching, my circles, my healing sessions positively.
I highly recommend this time if you are a healer, a seeker, a nature and cacao lover or if you just want to expand safely, explore yourself and have some quality time with minded people. 
Thank you...
Sandrine, London
The Earth Guardian Retreat was one of the most live changing experiences for me. Connecting with the elements & spirit in the magical and entirely safe space set up and so wonderfully held by Serap allowed me to truly get in touch with my essence and deeply feel the wholeness & connectedness of everything. Studying the elements & spirit one by one enabled me to explore each of them and my relationship towards them in a completely new, eye- & heart-opening way.
I'm infinitely grateful to be part of the Earth Guardian community and absolutely convinced that the Earth Guardian Retreat is not only an experience of immense value for the personal evolution of each participant but also for their relationship with nature, "our" planet, it's elements & humanity. It's a path of radical trust, radical love and radical responsibility that I do wholeheartedly recommend to anyone feeling the calling.
Juliane, Berlin
SEMINARHOTEL JONATHAN
---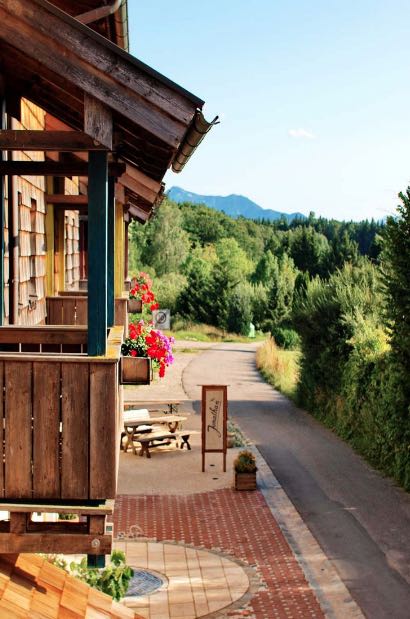 The Jonathan Seminar Hotel is idyllically situated in the middle of meadows, forests & mountains. The the nearby Chiemsee, the charming surroundings and the majestic mountain ranges attract open-minded people from all over the world.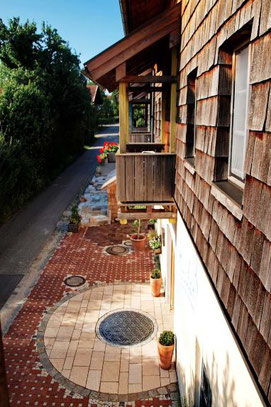 The hotel was built environmentally friendly and equipped accordingly with environmental technologies. These technologies neutralize electro-magnetic pollution, stimulate the  air's ion flow and take care of the quality of tap water.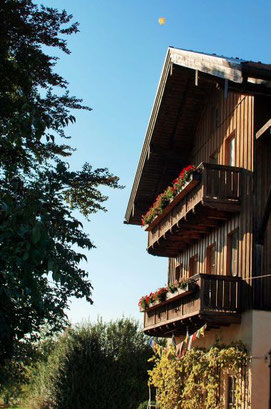 Restaurant and kitchen serve deliciously light and fresh food in high quality. The products originate mostly from organic farming.  A wellness area is meant to seduce you with a sauna, hotpool and different massage treatments. 
ACCOMMODATION
---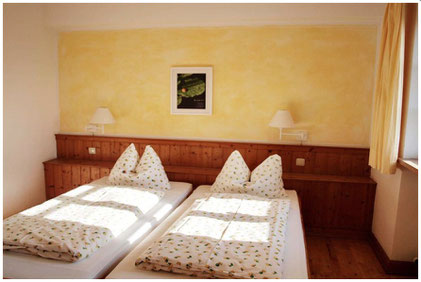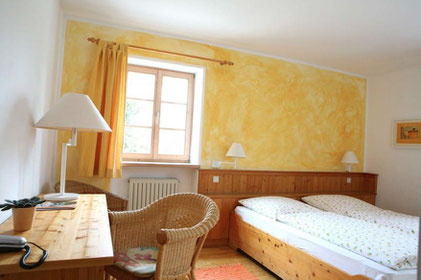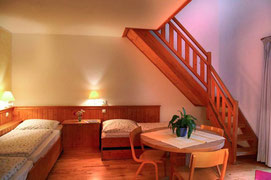 5 and a half days / 6 nights including full-board vegan food and accommodation at Jonathan:
single room · EUR 684
double room · EUR 522
This training is designed for an intimate group.
Please choose your preferred accommodation  in the registration form. I will check the availabilities and will confirm your choice. The final booking and payment of the room will be made with a member of team Jonathan directly. 
DIRECTIONS
---
By plane
From Munich or Salzburg airport take the bus or the metro to the central station. Change trains there for Traunstein. 
By train
The Traunstein train station offers direct connections to Salzburg, Munich, Karlsruhe, Hamburg, Nuremberg and Berlin
 www.bahn.com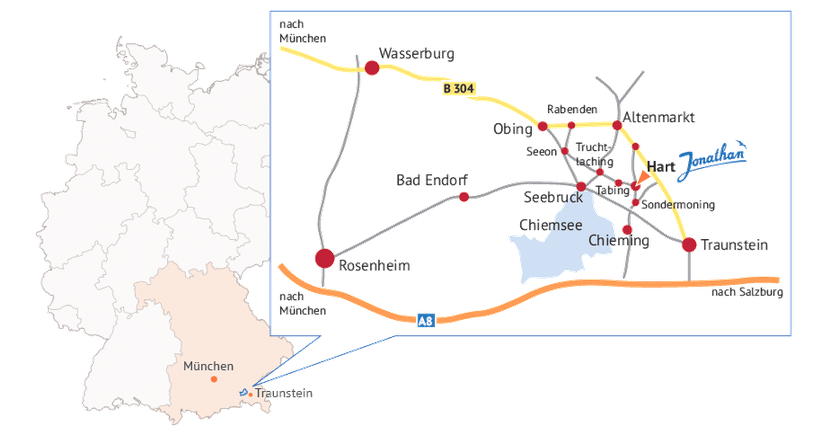 Transfer from Traunstein train station:
by cab
Jonathan's partner, Taxi Schwarzenlander brings you to the seminar hotel in about 15 minutes for a rate of about 25 €
Tel. 0861 - 2606, Email: email@taxi-schwarzenlander.de
by bus
from Traunstein to Hart: Number 9522  to Obing or Schnaitsee. Departure from Traunstein train station to Hart: Mo.-Fr. 12.35h, 13.15h, 16.45h und 17.20h and Saturday 12.30h.
REGISTRATION
---
TUITION FEE
EUR 720 
Includes inspirational teachings, initiations & energy work, daily ceremonies, rituals & meditations; a ritual with the Mother Drum, a ceremony in the hot pool with sauna, time in Nature, a one-on-one call prior to the training & Cacao Mama Certificate.
TERMS & CONDITIONS
With the submission of this registration form, you receive a confirmation within 1-2 days that a place is reserved for you. With the transfer of the tuition fee, your participation is confirmed as obliging and the place is firmly booked for you.
In case of cancellation, I reserve the right to retain a processing fee of EUR 50,00. In the case of a cancellation 4 weeks to 3 weeks before the start of the event, 50% of the tuition fee has to be paid, from 3 weeks before the start of the seminar 100%. Decisive is the date of receipt of the withdrawal declaration via email. You have the possibility to name a substitute participant.
This is an educational event. The nature of the work is such as to include deep personal processes of an introspective and meditative kind. Participants are responsible for taking care of their own processes and their own wellbeing at all times, as this training is not intended as a therapeutic space of any kind.The participation, including the arrival and departure, are at participant's sole risk. The instructor is not liable for damages of a spiritual, physical, psychological or material kind.
For further communication, please add happy@cacaomama.com to your address book.
⊹⊹ If you wish to be informed about upcoming dates, please subscribe to our monthly newsletter. Love, Serap ⊹⊹