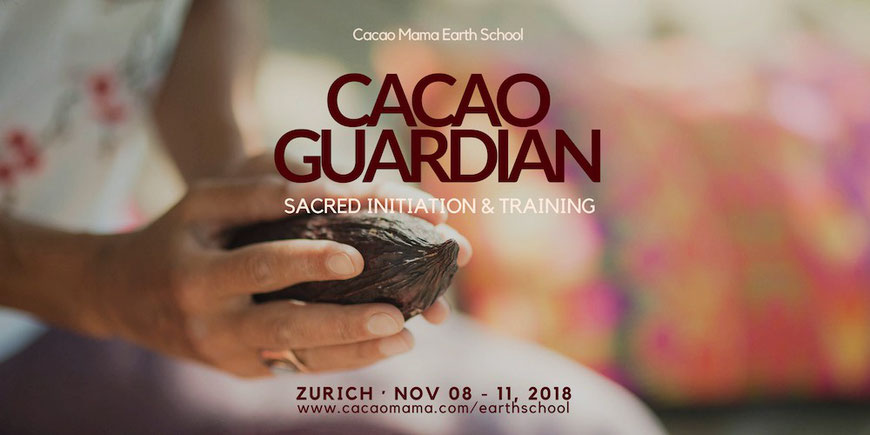 CACAO GUARDIAN
Sacred Initiation & Ceremony Training
Cacao Mama Earth School
ZURICH · The Sacred
8th-11th November 2018
10 am - 5 pm
In English
 ⊹⊹ fully booked ⊹⊹

Cacao Guardian is a dedication to the wisdom of master & teacher plants and an invitation from Mama Cacao. This 4-day initiation & learning ritual is intended to empower you in your essence as a lightworker, healer, yogi or bodyworker via a sacred initiation, tools, and Cacao alchemy, to enter the consciousness of Cacao and enable you to hold a sacred cacao ceremony for yourself and in your own community. This training acts like a concentrated offering, touching you at the core and unfolding in gentle, yet powerful waves into your reality.
THE INTENTION
---
An Indigenous Mayan myth tells us that whenever the balance between humans and nature becomes threatened, Cacao comes from the rainforest to open people's hearts, and return the planet to a state of harmony.
We live in a crucial time; Mama Earth is calling in her guardians, keepers, dreamers and weavers to overcome our sense of disconnection, to feel part of the cosmic matrix of life again. We hold the keys for this transition in our hearts.
By holding a Cacao Ceremony you invoke the sacred ritual of initiating unity and harmonious resonance of hearts within community. The Spirit of Cacao, often referred to as Rainbow Medicine & Medicine of the Soul, is a keeper of sacred wisdom, holding the vibrations of loving kindness, unconditional love, and power. When experienced in a sacred setting, Cacao reminds us of our natural capacity to open, and is a powerful guide for transformational personal experiences, such as deep meditational journeying and emotional release. 
This training is an offering of Mama Cacao herself, a sacred initiation with the Spirit: a holistic weaving of plant wisdom, Earth inspired wisdom, shamanic & master realms, global & urban shamanism, energetic healing, the alchemy of Cacao, and practical tools. You are invited to discover and explore the cosmic intelligence and gifts of the Cacao Spirit. On completion of this training, you will have a deep understanding of the many ways of Cacao, and be empowered to hold Sacred Cacao Ceremonies in your community.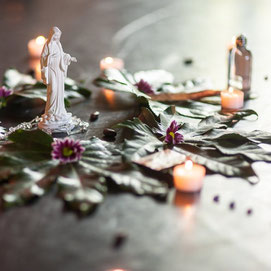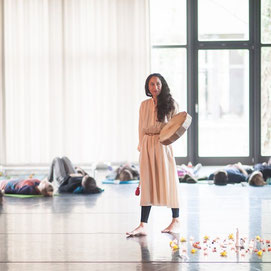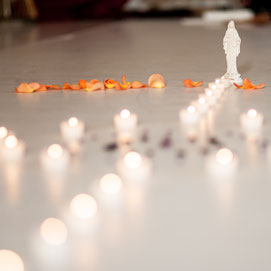 This training is for you if you would like to
understand the teachings of master & teacher plants

learn how Cacao works on the physical, spiritual and emotional body

receive sacred tools for your rituals, meditations and ceremonies that enhance your work

learn how to create a sacred protected space & a loving, transformative and well grounded Cacao experience for yourself and others

learn how Cacao cooperates with other disciplines such as massage, breath work, yoga or dance

expand your skills in your work as a weaver, healer, yogi, teacher, facilitator & healing artist

receive a sacred initiation with the plant spirit Cacao

deepen your relationship with Cacao

offer Cacao in a ceremonial setting

become a Guardian of Cacao
CURRICULUM
---
After setting the structures of the training we will explore:
PLANT CONSCIOUSNESS
Opening to the cosmic intelligence of master and teacher plants

The ancient spirit of Cacao and its Tree of Life

Understanding global and urban shamanism

Messages of the plant world for our current time
CACAO ALCHEMY
History & legends around Cacao

The key nutritional components of Cacao and their

 effects on the physical, spiritual & emotional body

Cacao & the Heart

Cacao's cooperation, activation and alchemy with other plants & disciplines such as dance, breathwork, massage & yoga

Preparation, storage and handling of ceremonial Cacao

Cacao's journey from seed to chocolate

Tasting

The economic, ecologic & social structure of Cacao farming & future outlook
SACRED SPACE & RITUAL
The geometry of the sacred space

The intention as a holding container

Creating a blueprint for a safe, well grounded and spiritually enhancing experience

Techniques for guiding participants through the experience

Opening, holding and closing the sacred space
SACRED CACAO CEREMONY
Together we will set the sacred space for a shared Cacao ceremony to participate in a communion with the sacred teacher plant Cacao in an initiation ceremony.
LEADERSHIP
The Way of Council

Embodying leadership 

Your role as an earth keeper and guardian of Cacao

Your unique offering in alignment with your personal gifts, services and vision to offer a positive, uplifting experience
YOUR GUIDE
---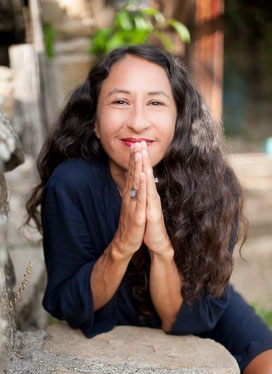 I'm Serap, a traveller, Earth speaker, healer, student of the inner gold path and guardian of the Cacao Spirit. My love for plants was initiated by a spiritual encounter with the Spirit of Cacao in 2011, which led me onto the path of sacred plant studies. This was followed by an intense study of global resources, energetic healing and Earth inspired wisdom from across many cultures.
My medicine heart beats in rhythm with Mother Earth. I love to create finely tuned healing experiences in order to assist people in aligning with their inner gold. Since founding the Cacao Mama Earth School, I became a student, learning from plants, trees and nature spirits and sharing my insights in ritualistic learning experiences.
The Earth School is about harvesting the messages found in the soul of nature, cultivating wisdom together and offering our voice to speak up for the preciousness of life. 
Meet Cristina, our lovely ambassador & host in Zürich
---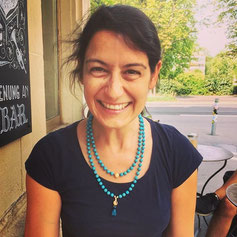 THE INITIATION & TRAINING
---
Thursday, 08th November to Sunday, 11th November 2018
4-day intense
In English 
Zurich, Switzerland
Daily Schedule 10am - 5pm 
10am-10.30 
Morning Invocation
10.30-12.30pm 
Teachings
12.30pm 
Shared Lunch at The Sacred Restaurant
1.30-4.30pm 
Tools, Techniques & Practice
4.30-5pm 
Reflection & Sharing 
Please note
You shouldn't work with ceremonial doses of Cacao if you are taking antidepressants or have a serious heart condition. Ceremonial doses of Cacao are also not recommended in cases of high blood pressure or epilepsy.
YOUR INVESTMENT
---
Tuition Fee
CHF 720 Regular price
CHF 675 Early booking (until 28th September 2018)
Cost includes a shared Cacao Ceremony, an initiation ceremony, knowledge transfer, meditations & energy work,
plus The Sacred Cacao Ceremony workbook & Cacao Mama Certificate. 
Lunch in the restaurant is not included. 
ACCOMMODATION & TRAVEL
---
Location
The seminar will take place at the meditation space of
The Sacred Restaurant (vegan & bio)
Müllerstrasse 64  - 8004 Zürich - Switzerland
The Sacred  is located in central Zurich, District 4. 
Accommodation 
The districts 8001, 8002, 8003, 8005, 8006 offer a nice range of hotels & private accommodations.
Transport
Public Transport from Zurich Airport is easy and takes around 15-20 min to Zurich main station (Hauptbahnhof).
CHF 6.20 one way if you choose public transport, around CHF 50-60 if you choose a cab.

Voices
---
"Her teachings come from the heart and she is clearly passionate by what she does. Days are shared between a  bit of theory and practice with shamanic tools that guide us  deeply into the ceremonies and ourselves. Everything flows smoothly.
Her love for cacao is palpable and she gives so much. I felt and feel blessed to have met a teacher who l resonate so much with. I left the training feeling inspired, empowered and glad to have met many spirited women also. Her cacao is also the best I have so far found on the market...both for personal use and ceremonial settings. I can't wait to share the Balinese one in my next circle!"
— Sandrine Giacobino
"I'm very grateful to you Serap for being such a clear and detached messenger of this powerful medicine...for really be able to transmit the essence of things and allow the creativity of each and every one to express and find its own unique way. Your workshop is deep and very far from all the commercial facade."
— Chiara Pallotti
"The training felt totally comprehensive and it was held in such a wonderful container. I learnt so much about all of the aspects of Cacao and how to work with it in my personal practice and sharing it with others. I loved all of the aspects: class size, programme, information, rituals, ceremonies and sharing lunch.
I'm so grateful that I was able to partake in this course and share space with a room full of incredible women. I've learnt so much and have come away feeling really centred and clear in how I want to move forward with my everyday life. I've only drank cacao once since returning home and it was so beautiful to feel confident in using this medicine ceremonially."
— Tamara 'Wolf Sister' Dreesen
"It has been a true privilege to enjoy Seraps openings into this sacred practice and her deep heartfelt connection to Cacao Spirit - an adventurous, delightful and truly beautiful experience." 
— Kristine Øjken
⊹⊹ Cacao Guardian is now fully booked. Thank you for your interest. If you wish to be informed about upcoming workshops, retreats and activities, please sign in for our monthly newsletter ⊹⊹
REGISTRATION
---
INVESTMENT
CHF 720 Regular price
CHF 675 Early Booking (until 28th Sep 2018)
Includes one shared Cacao Ceremony, an initiation ceremony, knowledge transfer, meditations & energy work, plus The Sacred Cacao Ceremony workbook & Cacao Mama Certificate
TERMS & CONDITIONS
With the submission of this registration form, you receive a confirmation within 1-2 days that a place is reserved for you. With the transfer of the tuition fee, your participation is confirmed as obliging and the place is firmly booked for you.
In case of cancellation, I reserve the right to retain a processing fee of CHF 50,00. In the case of a cancellation 4 weeks before the start of the event, 50% of the tuition fee has to be paid, from 3 weeks before the start of the seminar 100%. Decisive is the date of receipt of the withdrawal declaration via email. You have the possibility to name a substitute participant.
This is an educational event. The nature of the work is such as to include deep personal processes of an introspective and meditative kind. Participants are responsible for taking care of their own processes and their own wellbeing at all times, as this training is not intended as a therapeutic space of any kind. The participation, including the arrival and departure, are at participant's sole risk. The instructor is not liable for damages of a spiritual, physical, psychological or material kind.
For further communication, please add happy@cacaomama.com to your address book.