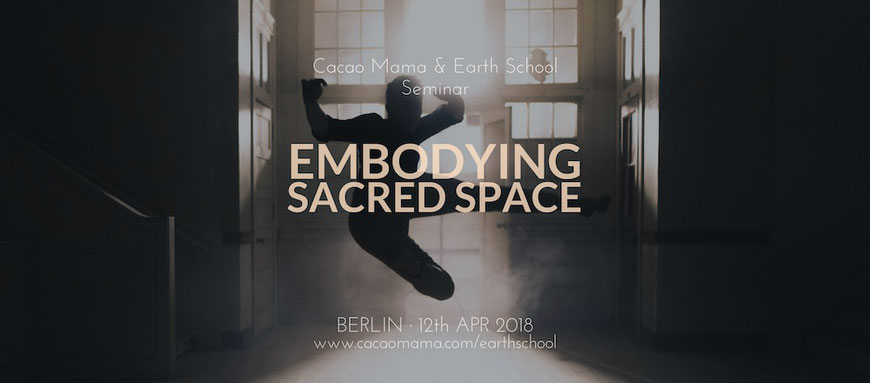 EMBODYING SACRED SPACE
Earth School Seminar & Cacao Ceremony
Fr, 20th April 2018 · 3- 8pm
English or German training
Berlin

A sacred space is a place created through intention, respect and focus. It is about cultivating an environment filled with energies that support, uplift, comfort, and transform our inner and outer awareness and benefit our highest good.
THE INVITATION
---
PART I - Inner Sacred Space
You are Sacred Space and your Sacred Space is everywhere you go. Through this space you create your reality. What reality you wish to create? How do you embody your dream? This seminar explores the power of the Inner Sacred Space.
There are tools available that can help you to open, activate, clean and protect the Inner Sacred Space. Explore the internal landscape, resources and energy sources that are available to you, and how inner space shapes outer, and outer space inner reality. Gain access to the principle of receiving, and how to integrate universal frequencies into the system in the best way possible. When not being fully clear in the intention, important energy can be lost, which is then no longer available. 
Questions we will explore:
What universal sources of energy are available to me?
What is my personal source of energy?
Where do I give it away?
How do I express a healthy No towards energy thieves?
How do I embody Sacred Space and how does that feel?
PART II - Cacao Ceremony
Enter a multi-dimensional state of expanded awareness through Ceremonial Cacao to calibrate the many layers of your being, allowing the heart to communicate with your higher self and soul; with your body and mind; and with Earth and the Divine. In this Space we integrate the messages into our system, create protection shields and cultivate & explore the inner space, fully embodying Sacred Space. 
The topics:
Touching resources & sources of energy

Activating the Sixth Sense

The Power of Intention

Inner Landscape & Altar

Nurturing the Inner Space, protecting the Inner Space

Energy thieves & hygiene

Expressing No - an attitude

Receiving & Implementing Universal Medicine
ABOUT CACAO
---
Cacao is a sacred teacher plant, a powerful facilitator and guide for inner work. It teaches ancient practices of Unity, Love and Understanding and allows a deep, loving connection with yourself and others. The Spirit of Cacao is pure joy. Cacao calibrates the cells, activates deep interaction and balances the sacred feminine & masculine dance within. In this loving experience, you are invited to align with your heart, intuition, higher self and Divine. We travel to the universal heartbeat of wisdom from where we plant the Seeds of the New Earth. The Spirit of Cacao is a keeper of sacred wisdom, perceived as radiant energy, described as a Medicine of the Soul, Medicine of Peace and Rainbow Medicine.
Please note: You shouldn't work with ceremonial doses of Cacao if you are taking antidepressants or if you have a serious heart condition. Please let me know if you have any questions. 
YOUR GUIDE
---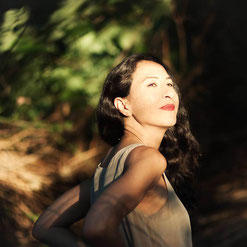 Serap is the founder of Cacao Mama & Cacao Mama Earth School, a healing enterprise to honour the Medicine of the Earth. She is an Earth speaker, traveller, healer, student of the inner gold path and guardian of the Cacao Spirit. Her Earth-Heart beats through her offerings and she is devoted to a life of intention, cosmic balance and establishing a re-connection with Mother Earth. She is dedicated to offering finely tuned healing experiences in order to assist others in aligning with their inner gold, the star codes and the Heartbeat of all Creation.
COSTS
---
Seminar Fee: EUR 108 (including Vat)
Earth School Certificate Holders: EUR 90
Location: The seminar will take place in Berlin.
Please note: You shouldn't work with ceremonial doses of Cacao
if you are taking antidepressants or have a serious heart condition.
REGISTRATION
I hereby register for the seminar Embodying Sacred Space 20th April 2018 in Berlin and accept that my registration is binding. 
---
COSTS
Seminar Fee: EUR 108
Earth School Certificate Holders: EUR 90
TERMS & CONDITIONS
With the submission of this registration form, you receive a confirmation within 1-2 days that a place is reserved for you. With the transfer of the tuition fee at the rates indicated above, your participation is confirmed as obliging and the place is firmly booked for you. Payment is due by bank transfer at the latest by 5 working days after receipt of the reservation confirmation.
In case of cancellation, I reserve the right to retain a processing fee of EUR 20,00. In the case of a cancellation 3 weeks to 2 weeks before the start of the event, 50% of the tuition fee has to be paid, from 2 weeks before the start of the seminar 100%. Decisive is the date of receipt of the withdrawal declaration via email. You have the possibility to name a substitute participant.
This is an educational event. The nature of the work is such as to include deep personal processes of an introspective and meditative kind. Participants are responsible for taking care of their own processes and their own wellbeing at all times, as this training is not intended as a therapeutic space of any kind. The participation, including the arrival and departure, are at participant's sole risk. The instructor is not liable for damages of a spiritual, physical, psychological or material kind.
Please note: You shouldn't work with ceremonial doses of Cacao if you are taking antidepressants or have a serious heart condition.
For further communication, please add happy@cacaomama.com to your address book.