PLANETARY ALIGNMENT & LIGHT CODES · THE DAY OUT OF TIME
Cacao Ceremony
25. July 2017 
8-11pm
Berlin
Beloved lightworkers coming together to balance the multi-dimensional aspects of your being. As we ground deeply in the Earth Star System we will open to receive Cosmic Light Codes that are available to us in this portal.
THE EXPERIENCE
---
Planetary Alignment & Light Codes is a series of Ceremonies designed to experience the Spirit of Cacao as a catalyst for incoming Light Codes. We weave the many layers of our being together, allowing the heart to communicate with our higher self & soul, with our body & mind, with Earth and the Divine, with nature spirits, master realms and angels to open the multidimensional perspective on our infinite Nature. Having activated the Cacao through guided meditation, we enter a silent & sound vibration mode to move the light within.
ABOUT CACAO
Cacao is a sacred teacher plant, a powerful facilitator and guide for inner work. It teaches ancient practices of Unity, Love and Understanding and allows a deep, loving connection with yourself and others. The Spirit of Cacao is pure joy. Cacao calibrates the cells, activates deep interaction and balances the sacred feminine & masculine dance within. In this loving experience, you are invited to align with your heart, intuition, higher self and Divine. We travel to the universal heartbeat of wisdom from where we plant the Seeds of the New Earth. The Spirit of Cacao is a keeper of sacred wisdom, perceived as radiant energy, described as a Medicine of the Soul, Medicine of Peace and Rainbow Medicine.
Please note: You shouldn't work with ceremonial doses of Cacao if you are taking antidepressants or having a serious heart condition. Please let me know when you have questions. 
THE QUALITY OF TIME
---
The Planetary New Year occurs on July 26th. In many ancient traditions this date was tracked as the beginning of a New Evolutionary Cycle. The day before, July 25 is known as the day Out of Time. In the 13 Moon Calendar this day does not belong to any moon or week and is regarded as a day of transition between the old and the new. On this day you may truly experience timelessness through meditation and reflection. The 26th of July is believed to open a gate that climaxes in The Lion's Gate, when the Sun rises with the Star Sirius aligning in Orion's belt, syncing perfectly with the Pyramids of Gizeh.
DETAILS
 Planetary Alignment & Light Codes
Tuesday, 25. July 2017
8-11pm
german or english class
Costs: EUR 45
Berlin - Prenzlauer Berg
Please sign up using the registration form below. 
YOUR GUIDE
---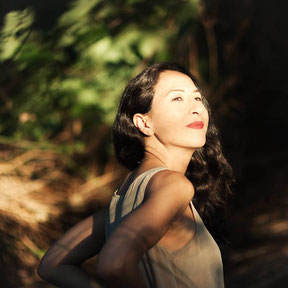 Serap's journey with Cacao began in 2011 with a life-changing encounter with the Spirit of Cacao. This was followed by an intense study of global resources, plant medicine, energetic healing and Earth inspired wisdom from across many cultures. She founded Cacao Mama as a healing enterprise in Berlin to honour the Spirit & lovingly advocate The Art of Cacao.
Serap is an Earth speaker, traveller, healer, student of the inner gold path and guardian of the Cacao Spirit. Her Earth-Heart beats through her offerings and she is devoted to a life of intention, cosmic balance and establishing a re-connection with Mother Earth. She is dedicated to offering finely tuned healing experiences in order to assist others in aligning with their inner gold, the star codes and the Heartbeat of all Creation.
For many years, Serap has been evolving her skills to dream a New Earth into reality that will serve Future Generations. She is a master student of Mari Nil and the co-founder of Agape Zoe Healing Festival. Harnessing ancient wisdoms alongside cultivating sacred arts in an urban setting, she is currently working on a curriculum titled Cacao Mama Earth School; an educational program that empowers leaders in becoming Earth Keepers.
REGISTRATION
Hereby I register for the Cacao Ceremony Planetary Alignment & Light Codes July 25th 2017 and accept that my registration is binding. 
CONDITIONS
With the return of this registration form you receive a confirmation that a spot is reserved for you. With the transfer of the ceremony fee at the rate of EUR 45, your participation is valid as obliging and the place is firmly booked for you. 
In case of cancellation 1 week before the start of the event the fee will be refunded, 48-24 hours before the event, 50% of the fee has to be paid, less than 24 hours before the start of the ceremony 100%. Decisive is the date of receipt of the withdrawal declaration via email. You have the possibility to name a substitute participant.
The participation as the arrival and departure are at Customer's sole risk. The instructor does not stick for damages of psychic, physical or concrete kind.
Please note: You shouldn't work with ceremonial doses of Cacao if you are taking antidepressants or have a serious heart condition.
Further information can be found in the FAQ section.
NEXT EVENTS
---